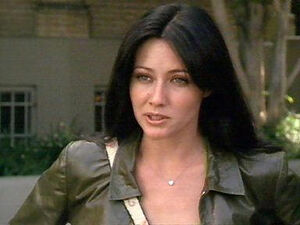 Personal Info
Full Name:
Prudence Victoria Halliwell-Trudeau
Prue is the older daughter of Patty Halliwell and Victor Bennett.
Alternate Realities
Edit
Season Three
Edit
In season three Chris and Emily end up in an alternate reality where Prue and Andy had a daughter right out of high school, but Andy was killed in a car crash. Prue raised her daughter, Phoebe, by herself for several years. She later met and married Jack Sheridan with whome she had a set of twin daughters, Pen and Lee.
Season Five
Edit
In season five Wyatt, Ben, and Hope end up in an alternate reality where Prue again has a daughter with Andy just out of high school, again named, Phoebe, but she lost that daughter when her daughter gave birth to a daughter of her own. Prue raised her granddaughter, Phee, alone, later adding niece and nephew Melinda and Chris to her family.
In the Series
Edit
Season One
Edit
When Prue's niece Melinda came up with an idea to try and get back Piper and Paige she had no idea how badly it would backfire. Propelling them into an alternate reality not their own, she had to join forces with alternate versions of her sisters and their kids to save herself, her husband, their daughters, and her niece. All the while she was combining with the Prue from that reality, as she came to the realization that to survive, they must stay there. She was thrilled at the chance to get to see her dad, again, and she's glad for the chance to escape the witch hunts, but she does sometimes wonder if she could have saved her sisters in the other reality.
As time went on she found a job and began building a relationship with her sisters, especially Paige who has not had a relationship with her before now. Paige brings her to San Francisco on a few occations so she can help out. One of these is when the magical children, including two of Phoebe's daughters are taken. Later she joins her sisters in trying to figure out a way to help Wyatt when he and his coworkers are stuck at work with a curse on the loose.
Everyone except Wyatt, Chris, and Melinda goes to her place in Boston to try and brainstorm on how to find Phoebe and Coop, but no one came up with an idea that worked.
Season Two
Edit
Season Three
Edit
Season Four
Edit
Season Five
Edit
Season Six
Edit
Charmed: Heritage Avatars
Edit
From Charmed
Edit
Shannen Doherty
Edit