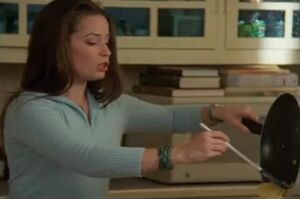 Personal Info
Full Name:
Piper Melinda Halliwell
Title:
Charmed One
Piper Halliwell is the middle daughter of Patty Halliwell and Victor Bennett.
Piper awoke after seven years to find everything changed. Her dead sister and best friend was alive, but no longer a witch. Her babies were half grown. Nothing was as she remembered. Even her husband was different, harder after seven years of trying to keep from being killed by a demon possesed firestarter.
She is married to Leo Wyatt. They have two sons, Wyatt and Chris who are ten and nearly nine and have grown up far too fast after the seven year loss of their parents. She is trying to get used to the fact that her babies aren't babies any more.
When Piper was a little girl she could freeze objects in time, but her powers were bound to protect her and her sisters. As an adult she and her sisters got back their powers and Piper learned to use her powers. Later she came into a new power that allowed her to blow things up by speeding up their molecules. Through this she was given to believe that her abilities were actually a matter of manipulating molecules.
In the Series
Edit
Ripple Effect Avatars
Edit
From Charmed
Edit
Holly Marie Combs
Edit
Ad blocker interference detected!
Wikia is a free-to-use site that makes money from advertising. We have a modified experience for viewers using ad blockers

Wikia is not accessible if you've made further modifications. Remove the custom ad blocker rule(s) and the page will load as expected.