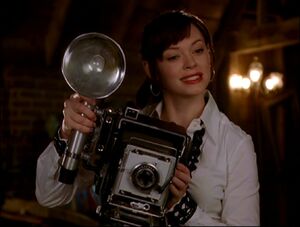 Paige
Personal Info
Full Name:
Paige Samantha Matthews-Mitchell
Title:
Charmed One
Additional Information
Series:
Charmed: Heritage
Appears in Season(s):
 ?
Number of Stories:
 ?
Paige Matthews is the youngest of the Charmed Ones, but since she wasn't raised with her sisters she doesn't really act like it. She is independant and has a healthy sense of humor.
Although she was raised as an only child and doesn't really act like it, Paige is the youngest of the four sisters. She is married to Henry Mitchell and has three children with him, twin daughters Alanna and Jani and son Hank.
She has mostly typical whitelighter powers. She does also have the ability to orb objects (and people) to her, a mixture of her whitelighter blood and her witch side.
In the Series
Edit
Season One
Edit
Season Two
Edit
Season Three
Edit
Season Four
Edit
Season Five
Edit
Season Six
Edit
Charmed: Heritage Avatars
Edit
From Charmed
Edit
Rose McGowan
Edit
Ad blocker interference detected!
Wikia is a free-to-use site that makes money from advertising. We have a modified experience for viewers using ad blockers

Wikia is not accessible if you've made further modifications. Remove the custom ad blocker rule(s) and the page will load as expected.